Piedmont Arthritis Clinic PA was founded in 1979 by Jeffrey G. Lawson, MD, as a private medical practice specializing in rheumatology. Independently owned and operated, we are dedicated to the treatment of arthritis and other autoimmune diseases. A recognized leader in the treatment of rheumatoid arthritis, our staff includes four physicians – all board certified in rheumatology with special interest in rheumatoid arthritis, psoriatic arthritis, lupus, ankylosing spondylitis, gout, osteoporosis, and osteoarthritis. Piedmont Arthritis Clinic serves patients in Upstate South Carolina, Western North Carolina, and Northern Georgia.
NEWS
MAY is LUPUS AWARENESS MONTH!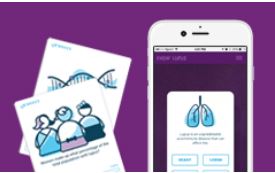 Challenge Yourself to KNOW LUPUS! Play the game and challenge others to KNOW LUPUS. Each time you complete a leavel the National Board Chair's family will make a donation to lupus research.
Now Hiring!
Piedmont Arthritis Clinic is accepting applications for an experienced CMA. Please send resume and cover letter to managerpac@yahoo.com. No phone calls please.